Welcome to Mommies On A Mission!
We are a couple of Mama's who have recently had babies and are working to lose weight:)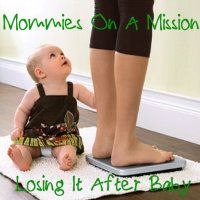 So this is me:
Weeks postpartum: 4
Pregnancy Weight: 158
Current Weight: 135
Goal Weight: 115 & firmer
As of right now, I am not able to work out. I have to wait until my 6 week postpartum appointment to get the ok from my midwife. So until then, I am nursing, (which seems to help ALOT when it comes to loosing weight), I am cutting out all sweets, only drinking water and taking care of four kids(that's workout enough right?)!
My goals with these weight loss posts are to obviously lose the weight/ gain muscle tone, but also to stay motivated and accountable through all of you! I don't want to disappoint:)
I am looking forward to sharing my progress and hopefully be able to encourage others along the way. Check back next week!
So far it is just Mama G and I that are participating, but we would love for more mama's to join in!
So link up:)