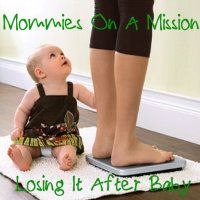 Weeks Postpartum: 9
Last Weeks Weight: 133
Current Weight: 132
Last week was SO busy that I completely forgot to blog!
Anyways, last week was great. I did Jillian Michael's video everyday and went jogging 4 times. I am physically feeling awesome... more energy, stronger and better endurance.
With that said, I lost 2lbs... and gained 1lb this week.
I am ok with that though because I may not see the results on the scale, but I feel them and see them!
I stopped "watching" what I was eating because I am worried about compromising my milk supply by restricting my calories. I am still trying to cut back on sweets:)
All in all, I am very happy with my progress. If things continue and I lose 1lb a week for the next 20 weeks, by just doing what I am doing, I will be more then happy!
It has taken me 5 years and 4 pregnancies to put it all on... so I can give it some time to come off:)
Don't forget to check out Mama G's progress over at Don't Call Me Crunchy.
And if you are interested in joining up with us, let me know!