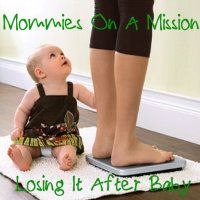 Weeks Postpartum: 7
Last Weeks Weight: 124
Current Weight: 123
I lost another pound this week. Weight loss is slow moving for me I guess:/
This last week I did my work out video 6 times. And it definitely kicked my butt!! I have been needing it.
Unfortunately, I didn't eat great last week... I guess I was thinking if I was working out a bit then I would be ok to have ice cream:) Wrong!!
Next week I really hope to lose at least 2 lbs, so I am going to keep working out AND eat better.
I entered Daddy and I into a Mud Run in October! So I am going to start the Couch to 5k running program in hopes that I will be able to run most of it:)

I am going to attempt to put Baby C and Squeak in the jogging stroller and let Buddy Boy ride his bike next to me. But if it ends up being too much then I may wait until Buddy Boy starts school in a few weeks.